Hi all!! Hope you are all having fun getting ready for Halloween! If you are looking for some fun one of kind art pieces to add to your decorating this year than head on over to the
Halloween Queens' Bootique
. Not only does each artist have their own page listed with goodies, but this month there is an ornament page and also a themed page. This month's theme is "
Put On Your Best Witch's Hat
". Here are the pieces that I added to the Boo this month!
The first one is for the theme page. I know it is not a witch's hat but I thought it would be perfect to celebrate the Halloween Queens! And okay, I will also admit it isn't even a real hat, it's a container, but how fun is it anyway!!
I took a found resin trinket box that had a cool shape of a crown and added a hand sculpted cat out of paper clay to the lid. I also added small Jack O'Lanerns and bats around the container part of the crown. Then I painted and antiqued it for an aged look. Measures a little over 7 inches high.
For the
Halloween Ornament Page
I have available this one of a kind Spooky Halloween Key Ornament! Every haunted house needs a skeleton key! This was made from a found resin key that I added a paper clay skull, bat and Jack O'Lantern. Then painted and antiqued for an aged look. Measures 6.5 inches long.
For my own
Creepy Creations Page
on the Boo, I listed this cute little guy! "Rombie" the Zombie and his faithful pet "Brainz"!
Rombie is made from polymer clay and painted. He has been dressed in some stylish shredded cloths. Stands 4 inches tall. His pet Brainz is also made from polymer clay and painted.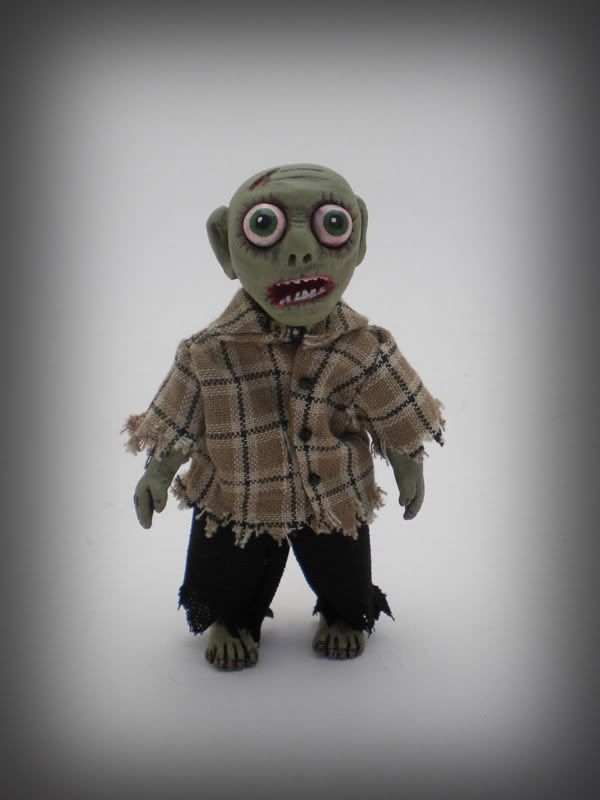 A creepy coffin box is also included to safely store Rombie and Brainz.
I had also made a mummy doll along with the zombie but my daughter has seem to have claimed her and took off with her saying something about looking cute in a pink dress.
I would also like to mention, if you have not already been over there, the really BIG giveaway that is going on over at the Halloween Queens' Blog. The 2nd Annual Halloween Queens HALLOWEEN Giveaway!!! Going on NOW until October 13th!! The winner will win 19 wonderful handmade goodies from different Halloween Artists!!! All you have to do is head on over to the
Halloween Queens' Blog
and leave a comment as to why you love Halloween!
Good luck!!
I plan to return here before Halloween. I'm currently working on another Halloween Clock that I am hoping to have ready soon!! Times a Tickin'! hee hee