Hi again! As I stated in the title, the BOOtique is updated now with new art for the month of August!! Here are the pieces that I am offering!
The first is another poly resin trinket box that I had found and revamped. I really love the design of this one!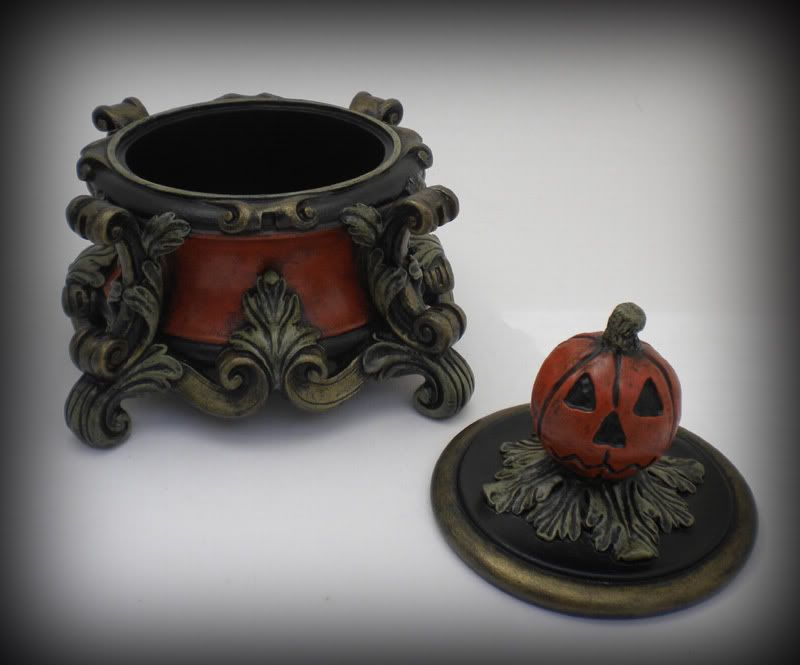 The Jack O'Lantern on top has been hand sculpted from paper clay. Painted in black, orange, green and gold then antiqued for an aged look.
Measures 6.5 inches high and 6 inches wide. The diameter of the inside is 4 inches and 2 inches deep. Perfect for storing your favorite small Halloween treasures! To see more information and pricing, click on any of the above pics.
Meet Radar, he is my other piece that is available for purchase. Radar is a vampire bat ornament that measures 3.5 inches tall. He is made from polymer clay and painted. His wings and feet are made from wire. Black glitter has been added to the wings for some SPARKLE! If you would like to add Radar to your Halloween tree just click on the picture to be taken to the listing!
Also, the new month's theme is "Death Becomes Her". If you click on the above pic you can check out the creepy cool art relating to that theme that some very talented Halloween Queens have created!

Thanks so much for visiting and I will next return with a before shot of a Halloween Clock that I am currently working on.