Wow, I knew it had been a while since I last blogged, but does that last post really say March 23? Shame on me! I don't even have a good excuse to where I have been!
I do have a couple new pieces to show you that are now available at the
Halloween Queen's Castle BOOtique
though! The first is a fun new jump a peg game with a spooky Alfred Hitchcock theme!
The 14 wood pegs have been embellished with hand sculpted polymer clay birds. All with a creepy blank stare!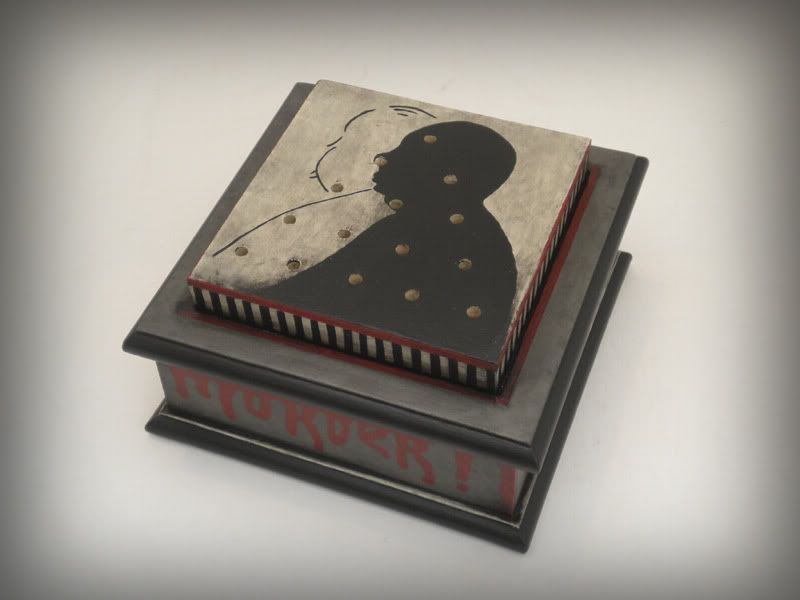 An Alfred Hitchcock silhouette is on the top and blood drips go around the entire box. The drips are even leaving a warning on the front!
Surprise! Mother has come to play!!
The pegs are safely stored inside the box that is padded and lined in a black corduroy fabric. For more information and pricing click on link or pic above to go to listing.
The BOOtique also has a couple of new pages added, a monthly theme page and an ornament page. The theme for this month is "Nightmare Before Christmas". Here is a piece I did for the ornament page. Meet Jerry Jailbird! Be warned, he is not too happy that he is caged up! If he gets out no telling what he'd do! Click on photo to see more info and pricing on Jerry!
Thank you so much for visiting and I hope to be back again before 3 months this time! I do have a mini roombox that I have almost completed and would like to post. Just need to take some pics! Bye for now!