**UPDATE** Listed now on ebay from March 9 through March 16
Click here to go to my Items for Sale Page
Getting ready to list these two man eating plants on Ebay and the sooner the better. I don't know if it is just me, but something just doesn't seem right. I had put them in pots until I got around to making another bouquet, but soon I noticed that the pots started cracking. Next thing I know arms and legs are busting out of the pots!! I'm scared that they are going to start coming after me and my family. Actually, I have not seen my dog lately!
Sorry, I'm just having too much fun with these!
The plants are hand sculpted out of paper clay and the leaves are polymer clay. The standing plant measures 12 inches tall and 7.5 inches wide including the arms and the sitting one measures 8 inches tall and 9 inches wide including the arms. The one standing is attached to a wood base. The one sitting is not attached to the rock so it can be sat on a shelf or where ever. The terra cotta pots that they are in measure almost 3 inches tall and 3 inches wide at the top. I put a quarter in the photo below so you can see the size. I was going to use my hand, but I didn't think that was a very good idea since they are looking really hungry!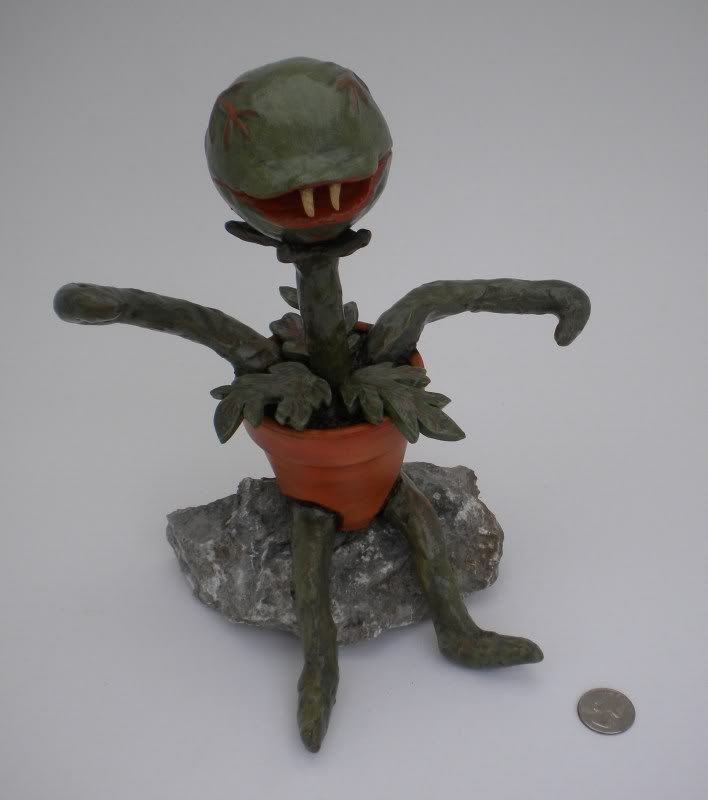 Thank your for looking!
Jamie