I just listed this grandfather style mantel/wall clock on ebay. It stands 24.5 inches tall and 11 inches wide. This is the biggest clock that I have done so far.
I removed the pendulum that was in the inside and added a spooky graveyard scene that has been hand sculpted in polymer clay. The background is painted to look like a night sky with a full moon, bats and an old haunted house.
LED lights have been hardwired in so they come up through the wood base behind the tree, Jack O' Lantern, and ghost to light the scene up and give it an eerie glow. The ghost also glows in the dark. There is a switch on the side of the clock so if it is hung on the wall the lights can still be turned on and off.
The clock face has 4 glow in the dark polymer clay ghosts in each corner.
At the bottom of the clock there are 19 hand sculpted Jack O' Lanterns that totally go around the front and sides of the clock. The sides of the clock are also embellished with clay leaves on hand painted vines that are done in an antique gold.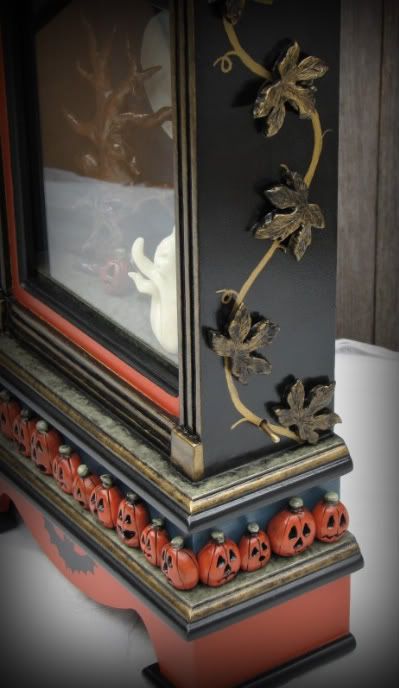 To view the auction on ebay, click on the photo on the right hand side of my blog.
Thank you for looking! More to come soon!