Here it is all finished and listed on eBay!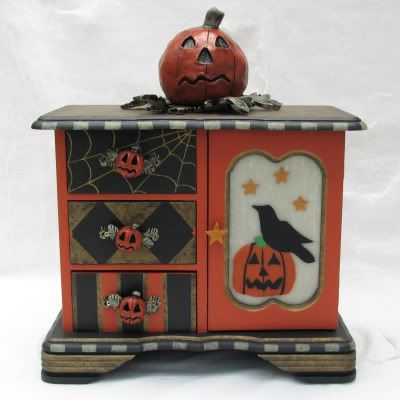 The Jack O'Lantern on top is handmade out of paper clay and the leaves are polymer clay. I covered the drawer knobs with smaller polymer clay jols and leaves. The knob on the door is a gold clay star to match the stars on the panel that is also handmade out of polymer clay.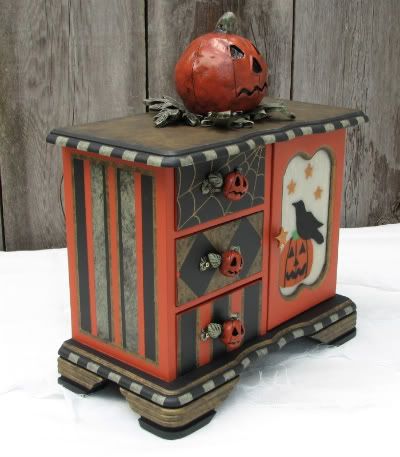 The box measures 10.5 inches wide and about 13 inches tall including the jol on top.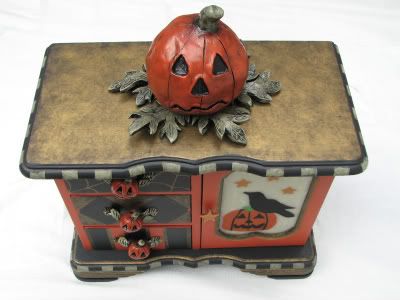 Here is a pic of the back so you can see where the light goes in and the polymer clay skeleton and crossbones wind up for the musical movement. When you open or close the bottom drawer it will start or stop the music. I replaced the old movement with a new one that plays Alfred Hitchcock's theme "Funeral March of a Marionette".
This is what the panel looks like when it is lit up. You can't tell in the pic, but I used a flicker light bulb. It really looks cool! The bulb will be included in the auction.
Also included is a handmade owl necklace. I used black, green and orange glass beads to go with the Halloween theme. The necklace measures 11 inches long from the clasp to the end of the owl pendant.
Please click the link below if you would like to see the auction or to view more pictures.
http://cgi.ebay.com/ws/eBayISAPI.dll?ViewItem&ssPageName=STRK:MESELX:IT&item=290326760214