Well, I finally have the haunted house photo box completed and listed on eBay! It seemed like it took long enough but I am happy with the results!


As you can see I handpainted the sides to look like old painted wood shingles and made polymer clay panels that fit into where 4 photos were originally supposed to go. I also painted the roof using another faux wood technique and I covered the original knob to the lid with a handmade polymer clay stone chimney. As I mentioned before everything has been handmade out of polymer clay except for the wood window shutters, the plexiglass and curtains for the windows! There is also a base on the bottom that winds up to slowly spin the house around and play music. I replaced the old musical movement with a new one that plays Alfred Hitchcock's theme "The Funeral March of the Marionette". If your speakers are on I have added the song to my music player so you know what it will sound like.



Here is the tree that I showed you in the prior post. The trick or treaters that were in my sketch were on the house too, but the tree ate them! Just kidding! LOL


The person inside the window is my husband! He was never able to get out after he installed the lights! Just kidding again!





The inside has a Jack O'Lantern switch to turn the lights on and off that my husband installed inside the box to light up the windows. There are also 2 photo books that together hold 48 4x6 photos!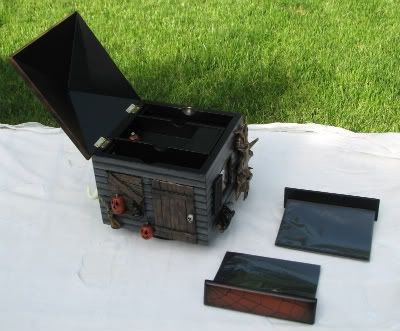 Below are a couple of pics of the lights when they are on. I could not get very good dark pics with my camera, it looks a lot better then the pics show. There are two yellow led lights inside the windows to light up the silhouttes and there are green leds behind the ghost and the tree. The ghost also glows in the dark.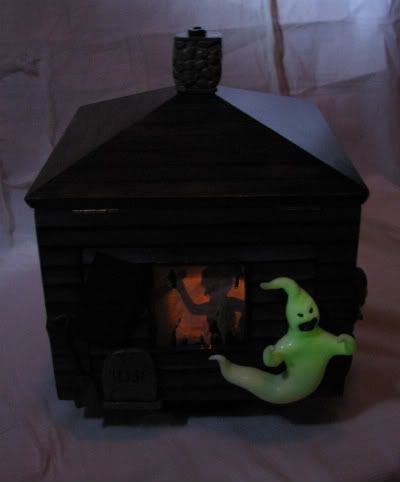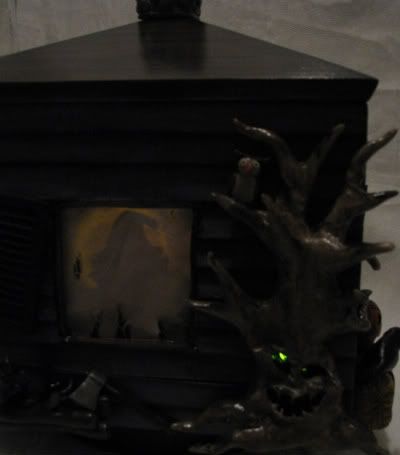 Each side of the photo box measures about 9 inches wide with the clay pieces and 10.5 inches tall including the spinning base and chimney.

Thank you so much for looking!