Here are some Halloween trinket boxes that I just listed on eBay. They are hand painted in a vintage Halloween style using orange, black and gold. I really love these boxes because not only do they open at the top, but they also have a secret opening in the middle.




I hand made the cat and the Jack O Lantern knobs out of paper clay. Then I painted them to match. The spider and the leaves are made out of polymer clay.




I relined the inside of the compartments with a black corduroy material.




The cat box measures 5 inches wide and 7 1/2 inches tall including the cat knob.



The JOL box measures 6 1/2 inches wide and 7 inches tall including the jol knob.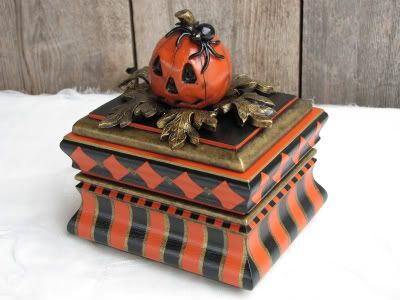 Thank you so much for looking! Here is the eBay auction if you would like to check them out:
http://cgi.ebay.com/ws/eBayISAPI.dll?ViewItem&ssPageName=STRK:MESELX:IT&item=290311476964
http://cgi.ebay.com/ws/eBayISAPI.dll?ViewItem&ssPageName=STRK:MESELX:IT&item=290311480532