I just posted my piece on eBay for the HA31 group Eerie Equinox / Spooky Spring Theme Challenge. I decided to go with a lovely Spring bouquet of man eating plants, inspired by the movie "Little Shop of Horrors".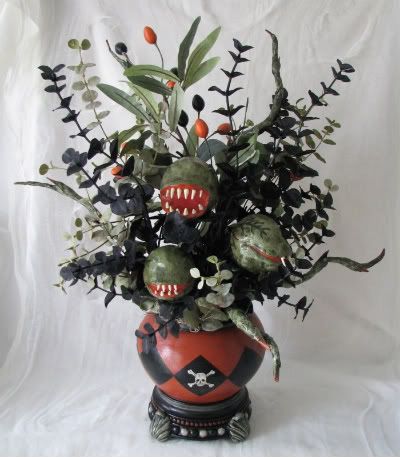 The three man eating plants and 5 thorny vines have been made from paper mache and various clays.




The arrangement is done in black, green and orange to match the vase. The vase has a crackle finish that has also been antiqued for an aged look. There are four hand painted skull and crossbones that go around the entire vase.




I decided to include a one time feeding of plant food. I can't afford anymore, it will be hard enough now to work with only one thumb.




The whole piece measures about 21 inches high. The arrangement is not glued in so it may be added to or changed to the buyers liking.




Here is the link if you would like to view it on eBay:
http://cgi.ebay.com/ws/eBayISAPI.dll?ViewItem&ssPageName=STRK:MESELX:IT&item=290304916535