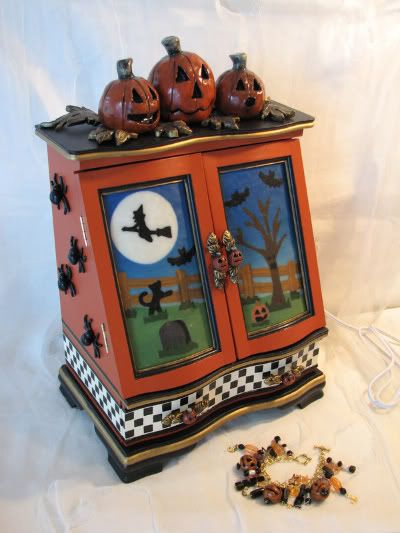 I created and sold this project back in October 2007. I had a lot of fun with this one. It was made from an old jewelry box that I had found. See bottom for before picture.
After removing the mirror and jewelry compartments, I prepped and painted. I added polymer clay Jack O Lanterns to the top and clay spiders that look like they're crawling all over the sides. Then, I removed the glass panels and added my own that I created using different colored polymer clay. When the doors are open, the scene also shows on the inside.
I added a light to the inside of the box so the panels light up.
Finally, I removed and replaced the old musical movement with a cool one that plays Alfred Hitchcock's theme "March of a Marionette". I added a clay bat to the turn knob in back for added detail.
Before picture of project: